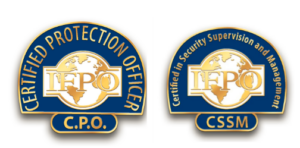 Earlier this year -- for the third year in a row -- the International Foundation for Protection Officers (IFPO) participated in the ASIS Foundation Scholarship by offering several of our Certified Protection Officer (CPO) and Certified in Security Supervision and Management (CSSM) certifications for free to eligible applicants.
And now, we are pleased to announce the recipients. But first, a big thank-you to all who applied and to those who received a scholarship, we wish you the best in your careers!
CPO:
Troy Zehnder, United States.
Pradeep Kumar Panigrahi, India.
Rafael Motavita, Colombia.
John Wilson, United States.
Tyler Hansen, United States.
Spanish version:
Luis Vicente Rodriguez Perez, Spain.
Roberto Pineda, Panama.
Henry Santiago, Venezuela.
CSSM:
Jason McIntosh, United States.
Dexter Carolino, Philippines.
Matthew Brown, United States.
David Pierce, United States.
Mone Felix, Nigeria.
Spanish version:
María González, Costa Rica.
Roxana Mujica, Panama.
____________________________________________________________________________________