Professional Security Officer Program (PSOP)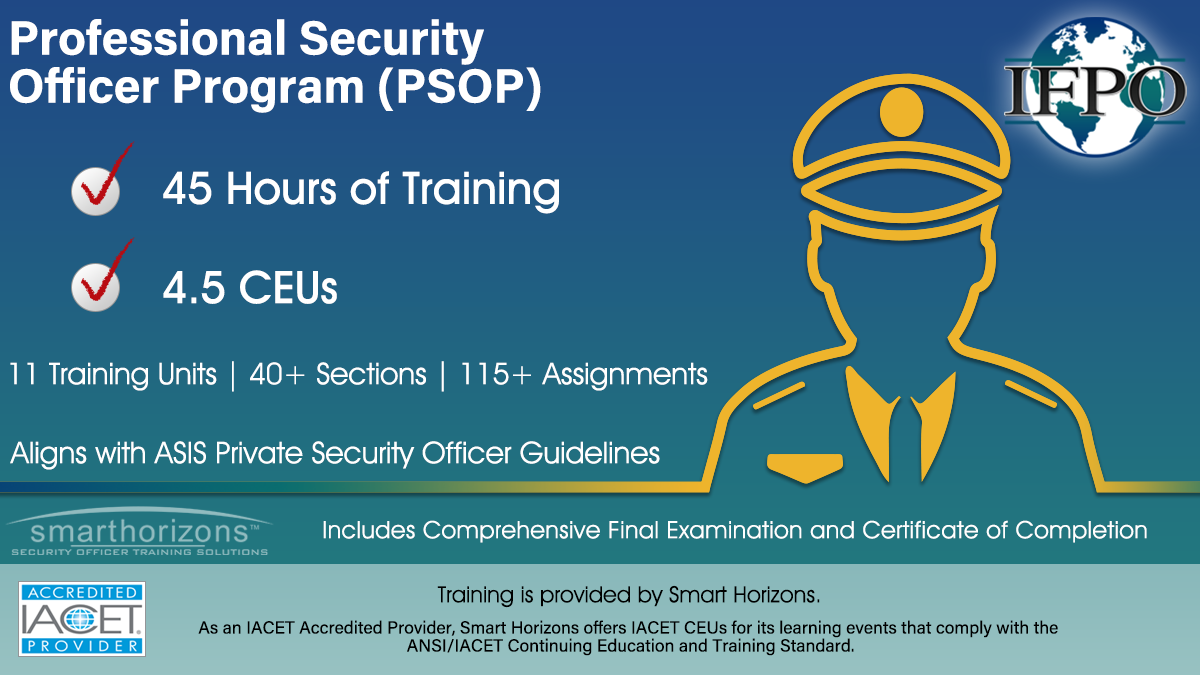 How do you know a crowd is becoming hostile?
What should you do in case of a hostile crowd?
How do you ensure traffic moves smoothly around a construction site?
How do you properly fill a parking lot?
How do the duties of a security officer differ from the duties of a public law enforcement officer?
The Professional Security Officer Program is ideal for:
Newcomers to the protection industry
Individual training to enhance professional expertise
Employer-sponsored group training
Refresher training for protection officers
The 45-hour PSOP course is presented in a series of 11 units. It covers a broad range of subjects, including the roles and responsibilities of the security officer, asset protection, emergency evacuation procedures, professional ethics, and report writing. The information presented ensures protection officers have the skills to carry out the important mission of protecting people, property, and information with professional expertise.
The web-based PSOP course allows students to train as their schedules permit. Students have the ability to access the course at any time, work through a lesson at their own pace, exit, and return to the course at a later time to resume their training. The student's progress through the course is automatically tracked by way of recording the completed units and examination scores.
Course lessons include interactive activities and topic quizzes to reinforce course materials. Immediate remediation is included within the activities, topic quizzes, unit and final course examinations. Click for course objectives.
Candidates interested in completing the PSOP Course should follow the steps identified below:
Complete the online order form and course application.
Submit order form, course application and course registration/tuition fees.
All course materials and lesson quizzes must be completed successfully with a minimum score of 70% to complete the course.
Each student will receive a Record of Training at the end of the program.
This updated course replaces the Basic Protection Officer (BPO)
Military Discount
Validation of current military status must be provided upon request. Please contact the IFPO for details at adminifpo@ifpo.org
Professional Security Officer Program (PSOP) training is provided by Smart Horizons.