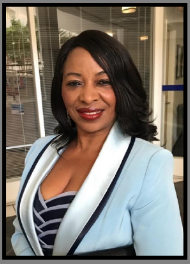 Naples, Florida – February 2nd, 2023 – The International Foundation for Protection Officers and Security Magazine are proud to announce  Dr. (AMB) Victoria Omonigho Ekhomu, MPA, FISN, AMP12, FAISSION, FNIIS, KSM, FIPMA, FIMC, CPOI as the 2023 award recipient of the Bill Zalud Memorial Award for Professional Excellence.
In 2017, the International Foundation for Protection Officers, in conjunction with Security Magazine, announced the inaugural Bill Zalud Memorial Award for Professional Excellence, which recognizes one security professional or an organization for professional excellence or outstanding service in the security profession.
Ekhomu was born in Igueben Edo State of Nigeria. She is the Group Managing Director/CEO of TRANSWORLD SECURITY, a foremost asset protection company. She serves in dual presidential roles, of both the School of Management & Security and also of the Association of
Security & Safety Operators of Nigeria (AISSON).
Victoria is a member of the ASIS Foundation Board of Trustees. She was ASIS International's African
Advisory Council Chairman, where she presided over Africa. Victoria earlier served as a Senior Regional Vice President for West, Central & Northern Africa for ASIS International from 2010- Dec.2015. She was a Regional Vice President for West and Central Africa, from 2008-2010. She also was the Chapter Chairman for ASIS, after having served as Program Chairman, and Secretary. Ekhomu is the first Nigerian to be appointed to the Awards Committee of ASIS International. She was Board Certified by the ASIS Certification Board as a Certified Protection Professional (CPP) in 2005, making her the first female to earn the CPP Certification in Africa. Victoria earned a Lifetime Achievement Award from ASIS 206 Lagos & ASIS Region 11. ASIS International is the world's largest professional security body, with more than 38,000 members.
In 2015, Ekhomu earned the Women in Security Global Community Karen Marquez Honors Award, which recognizes a female security professional who has consistently worked for the betterment of the security industry over an extended period of time. Victoria was honored with the Certificate of Appointment as Ambassador for World Peace (AMB), by the United Nations on October 9th, 2020. She is the African
Representative of International Foundation for Protection Officers (IFPO). As a Certified Protection
Officer (CPO) Instructor, she has earned the CPOI Certification from IFPO. Ekhomu is a Trustee of
AISSON (Association of Industrial Security & Safety Operators of Nigeria).
Ekhomu was conferred with the Honorary Doctor of Science Honoris Causa (D.Sc.) in Industrial Security,
Risk Management & Corporate Governance, by European-American University. She holds a Master's
Degree from the University of Pittsburgh and Bachelor's degree from University of Lagos. Victoria has a
Harvard Business School Certificate in Entrepreneurship in Emerging Economies. Victoria holds
the Advanced Management Certificate from Lagos Business School. She is a Certified Management Consultant (CMC) and was honored as a Fellow of the Institute of Management Consultants (FIMC). Ekhomu has a Fellowship Award from Institute of Security, Nigeria (FISN). She is a Fellow of Nigerian Institute of Industrial Security (NIIS). She holds a Fellowship from Institute of Criminal Justice and Criminology Administration.
Ekhomu was honored by Nigerian Security and Civil Defense Corps (NSCDC), the Regulator
of Nigerian Private Security, in collaboration with Association of Licensed Private Security Practitioners of
Nigeria (ALSPN), with the Award of Excellence. Chief Victoria, has a chieftaincy title, Yeye Fiwaboye of
Ilewo. She served as a past National President of SMAGOGA (St Maria Goretti Old Girl's Association), and
Lagos President for her Alma Mater. She is a Knight in the Anglican Church, who is blessed with wonderful
children.
"The nominations submitted this year were all outstanding supporters of professional excellence," Sandi Davies, Chief Executive Officer of the IFPO stated. "Our esteemed awards committee collectively and unanimously concluded that Mrs. Ekhomu was this year's recipient."
"We are very proud to have had Bill serve on the IFPO Board of Directors for more than a decade," Davies said. "His long and outstanding service to our organization made a significant difference. Bill had given strategic direction and vision to the Foundation. As an industry insider, his leadership was instrumental in making the foundation the success it is today."
ABOUT BILL ZALUD:  Zalud served in the U.S. Army for many years.  In 1987, Zalud became the editor of
SECURITY MAGAZINE and SDM Magazine. He spent over three decades covering and shaping the security
industry. His knowledge of the industry, his readers, the advertisers of the publications and their products and services brought great value to his contributions.  In 2009, Zalud became the editor emeritus working with Editor Diane Ritchey.  He continued to do research, writing insightful articles, columns and blogs.  He wrote the Zalud Report, a popular column about technology and industry trends, up until a few years ago.  The archives of his column are available online at securitymagazine.com.
ABOUT THE INTERNATIONAL FOUNDATION FOR PROTECTION OFFICERS:
Mission Statement:  The International Foundation for Protection Officers is committed to the support and professional development of protection officers. Through advocacy; promoting training standards;
and providing accessible training, education, and certification opportunities; we seek to enhance the professional standing of protection officers, as well as increase and diversify the value of the
vital services they provide.