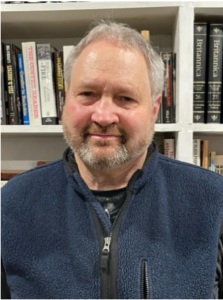 Chris Hertig, a member of the International Foundation for Protection Officers' Board Emeritus, has been accepted into the Marquis Who's Who, a website that describes itself as "an essential biographical source for thousands of researchers, journalists, librarians and executive search firms around the world." A big congrats to Chris for achieving this milestone!
YORK, PA, March 27, 2023 /24-7PressRelease/ -- Chris A. Hertig, CPP, CPOI, has been included in Marquis Who's Who. As in all Marquis Who's Who biographical volumes, individuals profiled are selected on the basis of current reference value. Factors such as position, noteworthy accomplishments, visibility, and prominence in a field are all taken into account during the selection process.
Leveraging more than four decades of excellence in protection and security, Mr. Hertig has earned distinction as an advisory board member for the International Foundation for Protection Officers. In this position, he focuses his efforts on providing education and training to support the foundation. He also lends his expertise as a member of the International Law Enforcement Educators and Trainers Association. Among his professional accomplishments, he is proud to have received a plaque from International Foundation for Protection Officers for his insight and dedication.
Read the rest of the entry here.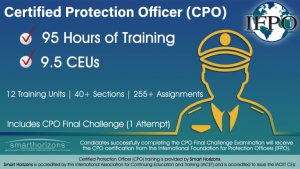 Get certified and take your security career to the next level!
The International Foundation for Protection Officers (IFPO) is dedicated to providing meaningful and cost effective security training for security guards and protection officers.
We believe that education is a necessary and essential part of professional security training and the security officer's background. IFPO serves individuals, security companies, and organizations that have their own private security staff. Our students and members benefit from the recognition and standing that the prestigious IFPO certification conveys.
LIKE and FOLLOW the IFPO on Facebook!
SUBSCRIBE TO THE IFPO'S YOUTUBE CHANNEL!
International Foundation for Protection Officers Mission Statement
Mission Statement Part I.
The International Foundation for Protection Officers provides professional learning opportunities for security practitioners, to impart the knowledge, skills, and competencies required to maximize job performance and enhance career potential.
Purpose: to make a positive difference in the quality of the participant's job performance and elevate the professional status of students who partake of our learning opportunities.
Business: to supply committed security practitioners with a quality education to help achieve their highest potential and provide recognized accreditation for successful completion of educational goals.
Values: commitment, integrity, responsibility, and standards of excellence, provide the platform that supports our journey as we pursue our mission.
Vision Statement
Commitment to Excellence: To be the recognized center of excellence and primary provider of education and training products and services to the security industry.
Mission Statement Part II.
"The International Foundation for Protection Officers is committed to the support and professional development of protection officers and supervisors. Through advocacy, promoting training standards, and providing accessible training, education and certification opportunities, we seek to enhance their professional standing as well as increase and diversify the value of the vital services they provide."