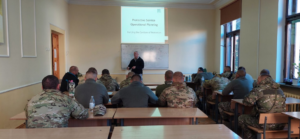 Matthew Parker, CEO, Independent Security Advisors, a longtime partner of the International Foundation for Protection Officers (IFPO) has been volunteering in Ukraine for the past several months, teaching various groups of Ukrainian military, law enforcement and security forces. Included in the curriculum is an ISA course that is endorsed by the IFPO.
Here is an excerpt from one of Parker's posts about the work there:
"In November we were again asked to conduct training to additional regional and national law enforcement, so this class started on November 1st and we graduated 14 more members of law enforcement. It was during the research and updating of our threat assessment course material that we discovered to our dismay that we had such a large sample size of threats to elected and public officials from political violence in the United States. This led us to post an article on November 1st where we looked back at the 16 articles over the last six years we have written on political violence and the security of elected and public officials. So that makes 17 articles on the topic and only now do we see the United States Capitol Police asking for additional resources, and that is after the attack on the Speaker's (Nancy Pelosi's) husband.
Continuing along those lines the company also announced in November that we would offer our protective services in any capacity to election workers in Arizona, as well as to other officials nationally. Now that the midterms are over, we will start looking at how we can support the democratic process going into 2024. This will include the continued training of law enforcement to provide EP operations for their elected representatives and additional pro-bono work with both political parties."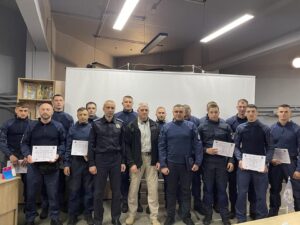 ISA donates to charity
"After consultations with the advisers on the ISA board we followed our policy of giving a portion of the profit and our salary in the classes name to a local charity. Though we received no payment for these classes we saw no reason to stop that tradition simply for financial reasons or because we are in Ukraine.
So, in honor of the students of class 01 and class 02 we decided to fund five scholarships. These scholarships will pay the college and or vocational training for one person to go to personal fitness trainer certification training with an additional training to specialize working with wounded warriors and police.
Scholarships 2, 3, and 4 will cover the cost for wounded warriors, police or their families who may need fitness or rehab services and scholarship 5 will cover the cost to train a current personal trainer in the advanced techniques of working with the disabled.
We hope through these small gestures we will provide for the rehab and fitness of our brothers and sisters of the Ukrainian military and police wounded in this war against Russia and locally build the institutional knowledge to continue treating those in need."