Certified in Security Supervision and Management (CSSM)
Unique and flexible, the Certified in Security Supervision and Management (CSSM) Program distance learning course is designed to meet the needs of the security supervisor or manager. The program consists of an unsupervised midterm examination (optional) and a mandatory proctored final examination.
Now Offered by Sorgex: CSSM Youtube Course. Click Here to Start Watching!
The textbook is "Security Supervision: Theory and Practice of Asset Protection," published by Butterworth-Heinemann. The text is the result of an alliance between IFPO, the publisher, and more than 50 of the industry's leading security supervisors, authors, educators, and consultants. This text serves not only as an excellent source of information for the course, but as a valuable reference the practitioner or student. It is also an excellent text for upper level undergraduate and graduate courses in Security Management, Homeland Security, and similar disciplines. Chapters include such topics as (partial list):
Future of private security
Security personnel selection
Motivation and evaluation
Security officer scheduling
Interpersonal communications
Staff training and development
Company policies and procedures
Managing/supervising to reduce liability
Testimony in court
Risk and crisis management
Statistical analysis
 Investigations
Legal aspects of security
Sexual harassment
Security medical response
Designing operations centers
Security technologies
Workplace violence
Crime prevention/community relations
Supervisor's role in training
Testing for learning retention
Candidates will receive the following: 
CSSM Traditional Delivery
Certified in Security Supervision and Management 4th Edition Text - Shipped
Interim Examination
Final examination (Directly to Proctor.)
CSSM On-line Delivery
User Name and Password will be sent to you upon enrollment.
Practice quizzes and all examinations are available on this online platform.
 Program Guidelines:
There are two necessary elements of this program:
A) Completion of the Final Examination
B) Completion of the Written Practical Exercises
For Part A:
1. Review Security Supervision and Management Training Manual. (Will be mailed to you within 7-10 business days)
2.  Complete the Interim Exam (optional) and forward to IFPO for grading.
3.  Select Examination Proctor, complete the Proctor Application Here and email the application to IFPO when ready to proceed with Final Examination. 
      Examination will be forwarded directly to Proctor. 
4.  Complete 258 multiple choice questions/true/false Final Examination and forward to IFPO.  Passing score is 70% or higher.
5.  Upon successful completion of the multiple questions test you may proceed with completing the Written Practical
For Part B – Essay Exercises
Practical Essay Portion are attached.
Once completed, combine into ONE document and email to adminifpo@ifpo.org. or Mail to IFPO (address at bottom of this email.
Submission scored by committee – may take up to 4 weeks.  70% or higher score required for passing.
Upon successful completion of BOTH Part A and Part B - Certification Awarded.
---
****Effective 01/01/2022 –  Successful candidates will also receive "State of the Art" digital credentials.   Hard copy certificates and lapel pins will be available for $7.00 each or by a 'bundle purchase' at a cost of $12.00 plus shipping and handling.
International requests please contact IFPO Headquarters for shipping costs.  Upon ordering please indicate how you would prefer your name to appear on the aforementioned items.
Certified in Security Supervision and Management (CSSM) Traditional Delivery
Certified in Security Supervision and Management (CSSM) Online Delivery WITH Textbook
Certified in Security Supervision and Management (CSSM) Online Delivery WITHOUT Textbook
Shipping and handling charges may apply

Discount programs cannot be combined
---
Hard Copy Products
---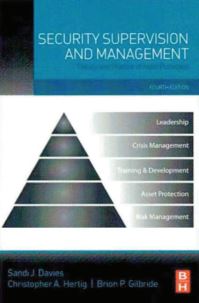 All applicants enrolling into the CSSM Program MUST have 6 months security experience or equivalent.