From PrivateOfficerBreakingNews:
New Orleans LA November 4 2019 A security guard with Pinnacle Security, which is contracted by the city's Downtown Development District to provide security patrols in the Central Business District, was patrolling the Warehouse District when he was flagged down by someone claiming to have been the victim of a tire slashing.
The guard got a description of the suspect and spotted a man near Julia Street who resembled the description, said a statement from Pinnacle and the Downtown Development District.
The security guard noticed the man matched the description of one who had previously been caught on video surveillance cameras slashing tires of other cars in the CBD. The man began fleeing as the guard approached, losing him at the corner of St. Charles and Howard avenues, police said.
GET CERTIFIED! And take your security career to the next level!
The guard used his radio to notify law enforcement officers in the area of the fleeing man, and the suspect was captured near Constance and Joseph streets, the statement from Pinnacle and the DDD said.
The man was identified as Mark William Alvarado. Court records show he was booked with seven counts of simple criminal damage to property as well as one count of illegal possession of a weapon by a felon.
Pinnacle said the arrest illustrated the power of the partnership among the firm, the DDD and New Orleans Police Department.
________________________________________________________________________________________________________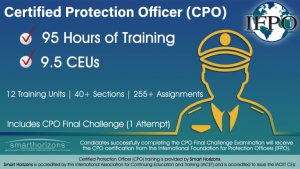 Get certified and take your security career to the next level!
The International Foundation for Protection Officers (IFPO) is dedicated to providing meaningful and cost effective security training for security guards and protection officers.
We believe that education is a necessary and essential part of professional security training and the security officer's background. IFPO serves individuals, security companies, and organizations that have their own private security staff. Our students and members benefit from the recognition and standing that the prestigious IFPO certification conveys.
LIKE and FOLLOW the IFPO on Facebook!
International Foundation for Protection Officers Mission Statement
Mission Statement Part I.
The International Foundation for Protection Officers provides professional learning opportunities for security practitioners, to impart the knowledge, skills, and competencies required to maximize job performance and enhance career potential.
Purpose: to make a positive difference in the quality of the participant's job performance and elevate the professional status of students who partake of our learning opportunities.
Business: to supply committed security practitioners with a quality education to help achieve their highest potential and provide recognized accreditation for successful completion of educational goals.
Values: commitment, integrity, responsibility, and standards of excellence, provide the platform that supports our journey as we pursue our mission.
Vision Statement
Commitment to Excellence: To be the recognized center of excellence and primary provider of education and training products and services to the security industry.
Mission Statement Part II.
"The International Foundation for Protection Officers is committed to the support and professional development of protection officers and supervisors. Through advocacy, promoting training standards, and providing accessible training, education and certification opportunities, we seek to enhance their professional standing as well as increase and diversify the value of the vital services they provide."