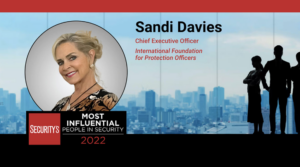 A big congrats to Sandi Davies, the International Foundation for Protection Officers' (IFPO) tireless and inspirational CEO. Sandi was selected as one of Security Magazine's Most Influential People in Security 2022. A well-deserved award for sure.
Here is an excerpt from the write-up:
Davies is outspokenly passionate about elevating the perception and reputation of security officers, and she has spent her entire professional career with this singular focus. The foundation for her life's work was first laid when she was 17 years old, working for a security contractor in an administrative capacity. "I saw people come into the office, slap on a uniform and be sent out to protect huge office buildings or campuses the next day. It's such an ingrained memory for me to see people that had little or no training be in charge of protecting such important assets," Davies says. "I realized very quickly that this industry needed to be treated as a profession with standard curricula and training and garner a level of respect for the betterment of these working people."
*** Read the rest of the story here ***
________________________________________________________________________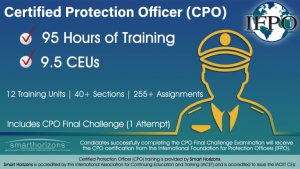 Get certified and take your security career to the next level!
The International Foundation for Protection Officers (IFPO) is dedicated to providing meaningful and cost effective security training for security guards and protection officers.
We believe that education is a necessary and essential part of professional security training and the security officer's background. IFPO serves individuals, security companies, and organizations that have their own private security staff. Our students and members benefit from the recognition and standing that the prestigious IFPO certification conveys.
LIKE and FOLLOW the IFPO on Facebook!
SUBSCRIBE TO THE IFPO'S YOUTUBE CHANNEL!
International Foundation for Protection Officers Mission Statement
Mission Statement Part I.
The International Foundation for Protection Officers provides professional learning opportunities for security practitioners, to impart the knowledge, skills, and competencies required to maximize job performance and enhance career potential.
Purpose: to make a positive difference in the quality of the participant's job performance and elevate the professional status of students who partake of our learning opportunities.
Business: to supply committed security practitioners with a quality education to help achieve their highest potential and provide recognized accreditation for successful completion of educational goals.
Values: commitment, integrity, responsibility, and standards of excellence, provide the platform that supports our journey as we pursue our mission.
Vision Statement
Commitment to Excellence: To be the recognized center of excellence and primary provider of education and training products and services to the security industry.
Mission Statement Part II.
"The International Foundation for Protection Officers is committed to the support and professional development of protection officers and supervisors. Through advocacy, promoting training standards, and providing accessible training, education and certification opportunities, we seek to enhance their professional standing as well as increase and diversify the value of the vital services they provide."