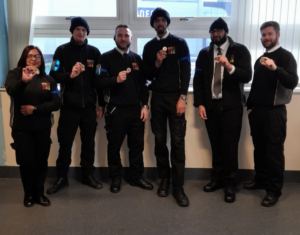 Six security officers received challenge coins and other accolades for their bravery, skill and ingenuity in responding to a vicious knife attack against two police officers at a shopping center in central England in July.
According to the BBC, the officers were targeted and suffered slash injuries in the ambush at the New Square Shopping Centre. Police charged two men, 41 and 37, and a woman, 31, with attempted murder in the incident, according to the BBC.
The six security officers responded to attack, helping to subdue and detain the attackers and render first aid to the officers. They are employed by ABM, a facilities management company, and are supervised by IFPO UK & Ireland's Advisory Board Member Chris Middleton.
The suspects face additional charges of possession of offensive weapons and possession of an imitation firearm, according to a West Midlands Police representative.
Calvin Shakes, operations manager for New Square, West Bromwich, Savills Management Resources, said one security officer "was quick to react to the incident and played a pivotal role in disarming an assailant with a knife who was about to stab a police officer who had lost his footing in the struggle and fell on his back, had Kenny not reacted so quickly and bravely I'm afraid that officer may have been killed."
Another security officer responded and helped the second police officer who was also fighting with an armed assailant, Shakes said. The security officer "removed the bloody knife from reach and provided enough intervention and force to allow the police officer to handcuff the assailant."
A third security officer preserved the scene's safety by making sure the weapons were out of reach and maintained custody of them for evidentiary purposes.
Three others -- a supervisor and two controllers -- provided support to their colleagues, Shakes said.
In addition to the direct action of stopping the attack, the security officers pivoted to providing care to the victims.
Shakes said the officers "reported to the incident and provided critical first aid to horrific injuries that police officer has sustained during the incident – there was nobody able to do this until paramedics arrived – our team borrowed the first aid kits of there colleagues who were physically engaged with the police and applied first aid until paramedics arrived on scene. Again, I believe they also deserve some recognition for the quick and critical thinking."
"From what I understand your team's unbelievable bravery and speed of thought was instrumental in saving the officers' lives," said a Savills representative.