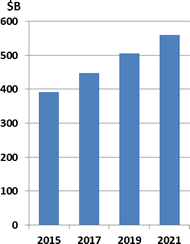 From HomelandSecurityResearch.com
15 years have passed since 9/11, and the global Homeland Security & Public Safety technologies and markets are forecasted to go through major shifts. Counter terror and security markets formerly dominated by the U.S. are now moving to Europe and Asia-Pacific. New and maturing counter terror technologies, such as big data & data analysis, advanced sensors, big data-based cybersecurity, video analytics and TETRA & LTE emergency communication, will create new market segments and fresh business opportunities.
June Special: 50% Discount on an IFPO Individual or Corporate Membership
According to the "Global Homeland Security & Public Safety Industry, Technologies & Markets – 2017-2022" report, the market will go through a growth period, sustaining a 2016-2020 CAGR of 5.7%. This growth is driven by the following dynamics:
-- The European terror and migration crisis
-- The turmoil in the Arab world, the ongoing conflicts in Iraq, Syria and Yemen, and the Shia-Sunni conflict
-- President Donald Trump promised, throughout his campaign, a tough fight against Islamist extremism terror at -home and abroad, and to invest in physical security and counter terror
-- Climate warming-related natural disasters growth
-- Organized crime
-- The "We Will Invest Whatever It Takes" approach of autocratic governments (e.g., China and Saudi Arabia) to avoid regime change
-- Cybercrime and cyberterrorism threats
Find out how YOU can become a Certified Protection Officer with the IFPO!
This 6-volume 2020-page HLS market report is the only comprehensive review of the global physical security market available today. The objective of this counter terror market forecast is to provide a detailed, time-sensitive and reasoned intelligence analysis.
Membership has its privileges! JOIN the IFPO and see the benefits!
This Homeland Security Market report is a resource for executives with interests in the physical security market. It has been explicitly customized for the security industry and government decision-makers in order to enable them to identify business opportunities, emerging security technologies, market trends and risks, as well as to benchmark business plans.