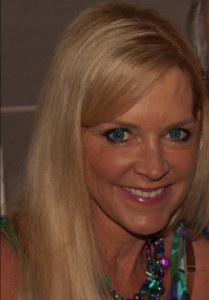 A big congratulations to International Foundation for Protection Officers (IFPO) CEO Sandi Davies, who has been named one of 10 distinguished judges from around the world -- representing the pinnacle of the security industry -- for this year's Outstanding Security Performance Awards (OSPAs).
According to its website, the OSPAs "recognize and reward companies and individuals across the security sector. The OSPAs are designed to be both independent and inclusive, providing an opportunity for outstanding performers, whether buyers or suppliers, to be recognized and their success to be celebrated."
A bio about Davies reads:
"Ms. Davies started her career in security in 1980 working for a contract agency in Calgary, Alberta Canada. She was instrumental in the development of the International Foundation for Protection Officers (IFPO) and in 1992 was voted in as executive director. Since that time Ms. Davies has held numerous volunteer leadership positions with a multitude of industry related associations and organizations.
Having published more than a dozen textbooks relating to security officer training she has quickly become an internationally recognized proponent of professional development. Having been the recipient of a number of awards relating to contributions to the industry Ms. Davies continues to direct her focus on awareness and research. Since the inception of the IFPO the organization has expanded to more than 52 Countries. The IFPO offers a wide range of security officer, supervisor and management programs."
Want to nominate a security officer, manager, team or company for an OSPA? You have until July 5 to get your entries in!
____________________________________________________________________________________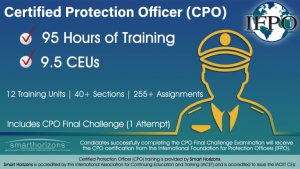 Get certified and take your security career to the next level!
The International Foundation for Protection Officers (IFPO) is dedicated to providing meaningful and cost effective security training for security guards and protection officers.
We believe that education is a necessary and essential part of professional security training and the security officer's background. IFPO serves individuals, security companies, and organizations that have their own private security staff. Our students and members benefit from the recognition and standing that the prestigious IFPO certification conveys.
LIKE and FOLLOW the IFPO on Facebook!
SUBSCRIBE TO THE IFPO'S YOUTUBE CHANNEL!
International Foundation for Protection Officers Mission Statement
Mission Statement Part I.
The International Foundation for Protection Officers provides professional learning opportunities for security practitioners, to impart the knowledge, skills, and competencies required to maximize job performance and enhance career potential.
Purpose: to make a positive difference in the quality of the participant's job performance and elevate the professional status of students who partake of our learning opportunities.
Business: to supply committed security practitioners with a quality education to help achieve their highest potential and provide recognized accreditation for successful completion of educational goals.
Values: commitment, integrity, responsibility, and standards of excellence, provide the platform that supports our journey as we pursue our mission.
Vision Statement
Commitment to Excellence: To be the recognized center of excellence and primary provider of education and training products and services to the security industry.
Mission Statement Part II.
"The International Foundation for Protection Officers is committed to the support and professional development of protection officers and supervisors. Through advocacy, promoting training standards, and providing accessible training, education and certification opportunities, we seek to enhance their professional standing as well as increase and diversify the value of the vital services they provide."