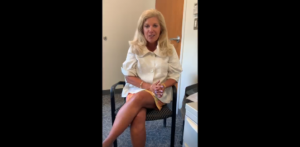 Bonnie Michelman, Global Advisory Board Member of the International Foundation for Security Officers (IFPO) is one of 26 women around the globe selected to be interviewed for a new documentary  project called The Women in Security Documentary. The documentary promises, through interviews with female security veterans and next-generation standouts, to chronicle struggles and triumphs of women in the security industry, in addition to the  impact they have had on the profession as a whole. A big congrats to Bonnie and the documentary!
Here is what Resilient Features wrote about Michelman:
Resilient Features is delighted to announce the first of 26 security professionals who will be interviewed for this production. Bonnie Michelman, CPP, CHPA has been sharing her knowledge, as an Advisor on this production, and has agreed to be spotlighted. She is truly a legend, her impact is generational and there has never been a harder working volunteer leader in the security profession. We thank her for sharing her inspirational story!
To see a clip of Bonnie announcing her involvement with the documentary, click here.
Resilient Features has established a Kickstarter for the documentary. To donate, click here.
________________________________________________________________________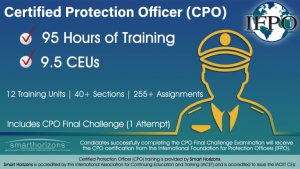 Get certified and take your security career to the next level!
The International Foundation for Protection Officers (IFPO) is dedicated to providing meaningful and cost effective security training for security guards and protection officers.
We believe that education is a necessary and essential part of professional security training and the security officer's background. IFPO serves individuals, security companies, and organizations that have their own private security staff. Our students and members benefit from the recognition and standing that the prestigious IFPO certification conveys.
LIKE and FOLLOW the IFPO on Facebook!
SUBSCRIBE TO THE IFPO'S YOUTUBE CHANNEL!
International Foundation for Protection Officers Mission Statement
Mission Statement Part I.
The International Foundation for Protection Officers provides professional learning opportunities for security practitioners, to impart the knowledge, skills, and competencies required to maximize job performance and enhance career potential.
Purpose: to make a positive difference in the quality of the participant's job performance and elevate the professional status of students who partake of our learning opportunities.
Business: to supply committed security practitioners with a quality education to help achieve their highest potential and provide recognized accreditation for successful completion of educational goals.
Values: commitment, integrity, responsibility, and standards of excellence, provide the platform that supports our journey as we pursue our mission.
Vision Statement
Commitment to Excellence: To be the recognized center of excellence and primary provider of education and training products and services to the security industry.
Mission Statement Part II.
"The International Foundation for Protection Officers is committed to the support and professional development of protection officers and supervisors. Through advocacy, promoting training standards, and providing accessible training, education and certification opportunities, we seek to enhance their professional standing as well as increase and diversify the value of the vital services they provide."