Absorbing a constant stream of information about the coronavirus and its impact could possibly trigger a sense of overwhelming doom as we deal with the pandemic. To be sure, staying up-to-date and exercising safety in connection with the virus is of paramount importance; however, how about a little positive security news to balance things out a bit?   -- IFPO.
Asante Rogue Regional Medical Center https://www.asante.org/Locations/location-detail/asante-rogue-regional-medical-center/In Medford, Oregon, security officers save a man who reportedly was about to jump from a parking garage rooftop at the Asante Rogue Regional Medical Center, according to Fox 26:
Hospital security was notified by a nurse who witnessed the man crouched on the ledge of the parking garage.
The man who saved his life says he knew he needed to move quickly.
"I felt like I needed to do something fast, I didn't have time to wait for law enforcement or first responders, I needed to act now so at that time I motioned to the other two security officers to assist him," said lead security officer, Anthony Pinon.
_______________________________________________________________________________________________________
From the Jacksonville North Pulaski School District's Facebook page:
"Check this out! Today is "Dress As Your Favorite Person Day" at Lester Elementary. Kindergarten scholar Easton dressed as Officer Cross, his favorite school security officer."
________________________________________________________________________________________________________
Dwight Daniel is proud of his contributions after more than 33 years as a security officer at Alabama Power. (Joseph Allen / Alabama NewsCenter)From the Alabama News Center:
All of us would like to end our careers the way Dwight Daniel is ending his.
The security shift team leader at Alabama Power is retiring at the end of this month after more than 33 years at the company. He does so with a sense of fulfillment for what he contributed.
"Security work is always something that I liked to do," he said. "At one point I had wanted to do law enforcement but I had some knee problems," so Alabama Power security was a better fit.
________________________________________________________________________________________________________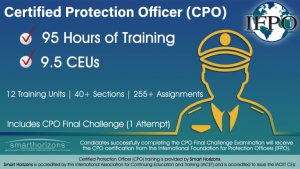 Get certified and take your security career to the next level!
The International Foundation for Protection Officers (IFPO) is dedicated to providing meaningful and cost effective security training for security guards and protection officers.
We believe that education is a necessary and essential part of professional security training and the security officer's background. IFPO serves individuals, security companies, and organizations that have their own private security staff. Our students and members benefit from the recognition and standing that the prestigious IFPO certification conveys.
LIKE and FOLLOW the IFPO on Facebook!
International Foundation for Protection Officers Mission Statement
Mission Statement Part I.
The International Foundation for Protection Officers provides professional learning opportunities for security practitioners, to impart the knowledge, skills, and competencies required to maximize job performance and enhance career potential.
Purpose: to make a positive difference in the quality of the participant's job performance and elevate the professional status of students who partake of our learning opportunities.
Business: to supply committed security practitioners with a quality education to help achieve their highest potential and provide recognized accreditation for successful completion of educational goals.
Values: commitment, integrity, responsibility, and standards of excellence, provide the platform that supports our journey as we pursue our mission.
Vision Statement
Commitment to Excellence: To be the recognized center of excellence and primary provider of education and training products and services to the security industry.
Mission Statement Part II.
"The International Foundation for Protection Officers is committed to the support and professional development of protection officers and supervisors. Through advocacy, promoting training standards, and providing accessible training, education and certification opportunities, we seek to enhance their professional standing as well as increase and diversify the value of the vital services they provide."