Here we have a courageous act by a security officer in Yulee, Nassau County, Florida. According to the report, the officer was headed to a break room -- probably thinking of break room things -- maybe a coffee, snack, whatever, when an armed man bursts into the casino (it's also been described as a Internet Cafe or arcade) with a gun leveled at her head. The guy clearly had the drop on her, which meant she had to draw and fire before he did. And that's exactly what she did do. Not only did she neutralize the threat and save lives, but this gunman now will be known as the dude who got shot in the rear end at a Florida casino. So much for street cred.   -- IFPO.
BY Jenese Harris, Reporter/weekend anchor; Cali Kees, Associate producer News4Jax
Three men and one woman, all from Jacksonville, were stopped minutes after an armed robbery Sunday night at an adult game room in Yulee, according to Nassau County Sheriff Bill Leeper. Three are in jail and one is recovering after being shot by a security guard,
According to the incident report, the suspects had on masks when they entered the arcade on State Road 200 near Interstate 95 about 7 p.m. When one of the robbers pointed a gun at a female security guard, she fired twice.
"She was walking into a break room when he ran toward her, pointed the gun right at her face," Leeper said. "She was in fear she was going to be killed so she pulled her gun and shot him. Shot him in the arm and, as he turned, in the butt area."
Are you ready? Launch your career in security with a CPO certification
The gunmen took off but were quickly stopped and arrested by deputies.
The driver, Ebony Hixon, 29, along with Damani Zvobogo, 19, and Josiah Smith, 20, were booked into the Nassau County jail on charges of robbery with a firearm and attempted murder. Lance White, 20, faces the same charges plus possession of a firearm by a career criminal, but he is recovering from gunshot wounds to his arm and buttocks at UF Health Jacksonville.
________________________________________________________________________________________________________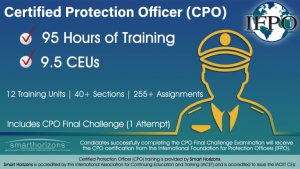 Get certified and take your security career to the next level!
The International Foundation for Protection Officers (IFPO) is dedicated to providing meaningful and cost effective security training for security guards and protection officers.
We believe that education is a necessary and essential part of professional security training and the security officer's background. IFPO serves individuals, security companies, and organizations that have their own private security staff. Our students and members benefit from the recognition and standing that the prestigious IFPO certification conveys.
LIKE and FOLLOW the IFPO on Facebook!
International Foundation for Protection Officers Mission Statement
Mission Statement Part I.
The International Foundation for Protection Officers provides professional learning opportunities for security practitioners, to impart the knowledge, skills, and competencies required to maximize job performance and enhance career potential.
Purpose: to make a positive difference in the quality of the participant's job performance and elevate the professional status of students who partake of our learning opportunities.
Business: to supply committed security practitioners with a quality education to help achieve their highest potential and provide recognized accreditation for successful completion of educational goals.
Values: commitment, integrity, responsibility, and standards of excellence, provide the platform that supports our journey as we pursue our mission.
Vision Statement
Commitment to Excellence: To be the recognized center of excellence and primary provider of education and training products and services to the security industry.
Mission Statement Part II.
"The International Foundation for Protection Officers is committed to the support and professional development of protection officers and supervisors. Through advocacy, promoting training standards, and providing accessible training, education and certification opportunities, we seek to enhance their professional standing as well as increase and diversify the value of the vital services they provide."