By ISIO [International Security Industry Organization]
No one knows if the Coronavirus could turn into a pandemic but, at this moment, it must be seriously considered.
A few months ago, ISIO suggested that security managers must ensure that there is a contingency in the budget to obtain equipment or skills training to prepare for any possible threats.
Any responsible managing or finance director must consider allocating funding and preparing for this emerging threat because of the potentially dangerous consequences.

Considering Equipment, Manpower training and Policy
 Training for Staff
Obviously, the biggest concern is not being able to detect a threat until it emerges. The faster a person of interest is identified, the better, using a non-intrusive method to interview someone that is suspected of having flu symptoms. However, it must be considered that some people may lie or hide about their medical status because of fears. One may then need to determine where and who they were with over the past days. Subsequently, quick interviewing methods based on deception detection is required (ISIO highly recommends HIM Tool link below)
Strangely enough, you would be surprised how many people do not know how to wash their hands. Regardless - show them when talking to them by soaping up between fingers and even fingernails. Furthermore, ensure that bathrooms are stocked with medical soap. Train all staff that touching others must be with medical gloves. Ensure that any cuts or open wounds must be quickly cleaned with disinfectant and securely covered with plasters. Ensure that any cuts or open wounds must be quickly cleaned with disinfectant and securely covered with plasters.
LIKE and FOLLOW the IFPO on Facebook!
Equipment:
Some type of thermal detector be it connected to cctv or handheld to identify people that have high temperatures.
Medical gloves and face masks for all staff and specially security staff
Mouth-to-mouth respiration protectors for safety officers or staff familiar with first aid training
Consider Policy
Given the level of contact most people have with others over the course of a day, all must be closely and continuously monitored for flu symptoms. Perhaps security can assist staff in company-wide training, which would reinforce the knowledge and heighten situational awareness, which is a key factor for security awareness.
Furthermore, staff who are on travel trips must be supported by human resources or security in every way. It is suggested that staff who travel are provided a bag with the necessary items to protect themselves, including masks, gloves and plasters.
View the HIM e-Connect Tool at Human Investigation endorsed by ISIO
Stay Safe ISIO
International Security Industry Organization
________________________________________________________________________________________________________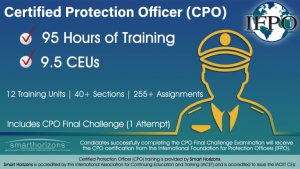 Get certified and take your security career to the next level!
The International Foundation for Protection Officers (IFPO) is dedicated to providing meaningful and cost effective security training for security guards and protection officers.
We believe that education is a necessary and essential part of professional security training and the security officer's background. IFPO serves individuals, security companies, and organizations that have their own private security staff. Our students and members benefit from the recognition and standing that the prestigious IFPO certification conveys.
LIKE and FOLLOW the IFPO on Facebook!
International Foundation for Protection Officers Mission Statement
Mission Statement Part I.
The International Foundation for Protection Officers provides professional learning opportunities for security practitioners, to impart the knowledge, skills, and competencies required to maximize job performance and enhance career potential.
Purpose: to make a positive difference in the quality of the participant's job performance and elevate the professional status of students who partake of our learning opportunities.
Business: to supply committed security practitioners with a quality education to help achieve their highest potential and provide recognized accreditation for successful completion of educational goals.
Values: commitment, integrity, responsibility, and standards of excellence, provide the platform that supports our journey as we pursue our mission.
Vision Statement
Commitment to Excellence: To be the recognized center of excellence and primary provider of education and training products and services to the security industry.
Mission Statement Part II.
"The International Foundation for Protection Officers is committed to the support and professional development of protection officers and supervisors. Through advocacy, promoting training standards, and providing accessible training, education and certification opportunities, we seek to enhance their professional standing as well as increase and diversify the value of the vital services they provide."