Around the world, security officers find themselves on the front lines of the fight against the coronavirus pandemic. In one way, this is no different -- security professionals are often first responders in emergency situations; however, because this is a global pandemic, dubbed a "silent enemy," there is added concern for those who are on those front lines. One only need look at recent headlines to see the devastation among security officers caused by the disease. In that way, the IFPO extends much respect and a heartfelt thank you to all the security officers out there who are putting their lives on the line.  -- IFPO.
Walmart security officer in Canada struck by driver angry about COVID-19 restrictions
From the Canadian Broadcasting Corporation: A security guard at a Walmart in Sherbrooke, Que. is in critical condition after being hit by a driver frustrated by the store's COVID-19 prevention measures.
______________________________________________
7 reasons for employers to insist on IFPO-certified security officers
______________________________________________
Man tested for COVID-19 coughs toward hospital security officer and deputy 
According to the Washington County Sheriff's Office in Maryland, a man has been charged with Threat of Mass Violence in connection to an incident at Meritus Medical Center.
___________________________________________________________
Getting started as a security officer? Order the Initial Security Officer Program today
___________________________________________________________
52 TSA screening officers test positive for virus in the past 2 weeks
TSA understands that COVID-19 (Coronavirus) is on the minds of travelers and the general public. That is why we have established a map for the purpose of notifying the public about airports where TSA officers have tested positive for the COVID-19 virus. CDC recommends that post-exposure health management measures for asymptomatic exposed individuals continue until 14 days after the last potential exposure.
In the past 14 days across the nation, there are 52 screening officers who have tested positive for COVID-19. In addition, 13 non-screening employees who have relatively limited interaction with the traveling public, have tested positive for the virus over the same period.
TSA is working with the CDC and state and local health departments to monitor local situations as well as the health and safety of our employees and the traveling public. Impacted security checkpoints may close as needed, so you may be redirected to other security screening checkpoints at the airport. TSA officers remain dedicated to their mission to ensure that travelers can get to their destinations as safely and securely as possible.
__________________________________________________
Security officer vs security guard: The difference is an IFPO certification
__________________________________________________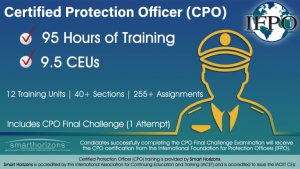 Get certified and take your security career to the next level!
The International Foundation for Protection Officers (IFPO) is dedicated to providing meaningful and cost effective security training for security guards and protection officers.
We believe that education is a necessary and essential part of professional security training and the security officer's background. IFPO serves individuals, security companies, and organizations that have their own private security staff. Our students and members benefit from the recognition and standing that the prestigious IFPO certification conveys.
LIKE and FOLLOW the IFPO on Facebook!
International Foundation for Protection Officers Mission Statement
Mission Statement Part I.
The International Foundation for Protection Officers provides professional learning opportunities for security practitioners, to impart the knowledge, skills, and competencies required to maximize job performance and enhance career potential.
Purpose: to make a positive difference in the quality of the participant's job performance and elevate the professional status of students who partake of our learning opportunities.
Business: to supply committed security practitioners with a quality education to help achieve their highest potential and provide recognized accreditation for successful completion of educational goals.
Values: commitment, integrity, responsibility, and standards of excellence, provide the platform that supports our journey as we pursue our mission.
Vision Statement
Commitment to Excellence: To be the recognized center of excellence and primary provider of education and training products and services to the security industry.
Mission Statement Part II.
"The International Foundation for Protection Officers is committed to the support and professional development of protection officers and supervisors. Through advocacy, promoting training standards, and providing accessible training, education and certification opportunities, we seek to enhance their professional standing as well as increase and diversify the value of the vital services they provide."