There is no doubt that the security industry is at a cross-roads. With security professionals performing the role of first responders to a higher degree each day -- as the number of security officers increase and conversely, the number of police officers decrease -- there is a greater need for training and oversight.
Gobbling up large contracts by any means necessary -- including hiring dangerous and often de-certified individuals and covering up their indiscretions -- is a powder keg waiting to explode, so to speak. The result is what you read in the story -- lives have been shattered. Hopefully, G4S enacts serious, sweeping improvements, and also, legislators move forward with tighter regulations.
The IFPO, through its educational programs, seeks to help maintain a high standard among security professionals in the industry. The foundation also holds itself to an equally high standard and so turning a blind eye to unethical and criminal behavior is unacceptable.  -- IFPO.
A security empire deployed guards with violent pasts across the U.S. Some went on to rape, assault or kill
By Brett Murphy and Nick Penzenstadler, USA TODAY and Gina Barton, Milwaukee Journal Sentinel
Here is an excerpt from the story: But the company's efforts to penetrate the U.S. market with low-cost protection have repeatedly come at the expense of its own hiring and training standards. G4S has sometimes given power, authority and weapons to individuals who represent the very threat they are meant to guard against.
Documents show the company's American subsidiaries have hired or retained at least 300 employees with questionable records, including criminal convictions, allegations of violence and prior law enforcement careers that ended in disgrace. Some went on to rape, assault, or shoot people – including while on duty.
USA TODAY and the Milwaukee Journal Sentinel spent more than a year investigating G4S, a global security empire that is largely unknown to the American public even though its guards are omnipresent in daily life.
Reporters reviewed thousands of police reports, court filings and internal company documents and matched guard rosters against criminal records and lists of decertified law enforcement officers. Then they interviewed current and former G4S employees around the country, as well as victims of the violence.
The reporting revealed a pattern of questionable hires often driven by low wages, high turnover and pressure to sign new contracts and bring on enough guards to meet the requirements. Some employees who raised safety concerns were ignored, punished or threatened while G4S executives cast the most serious incidents as aberrations.
...
Renowned security expert and IFPO Director Tom M. Conley,  is also quoted in the story: Tom Conley, president and CEO of The Conley Group, a security consulting firm in Des Moines, Iowa, said G4S' expansion into the U.S. helped drive an industrywide trend of consolidation and scale. The handful of massive corporations dominating the industry prioritize landing as many contracts as possible "when they should be focused on customers and employing people adequately prepared to handle emergencies," Conley said.
________________________________________________________________________________________________________
G4S issued a response, which reads in part: "USA Today is wrong in suggesting that G4S does not hold itself to its own high standards. The information USA Today provided to G4S prior to publication was full of errors, stated outdated information and irresponsibly attempted to use anecdotes to suggest they were representative of the overall company."
Read the rest of the response here.
________________________________________________________________________________________________________
Help USAToday to report this story
Do you have a story to tell about G4S? Reach out to us confidentially.
If you'd prefer secure text or calling, please contact Brett Murphy on Signal at 508-523-5195.
________________________________________________________________________________________________________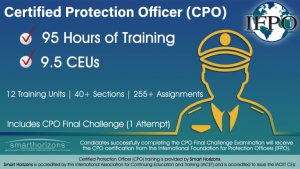 Get certified and take your security career to the next level!
The International Foundation for Protection Officers (IFPO) is dedicated to providing meaningful and cost effective security training for security guards and protection officers.
We believe that education is a necessary and essential part of professional security training and the security officer's background. IFPO serves individuals, security companies, and organizations that have their own private security staff. Our students and members benefit from the recognition and standing that the prestigious IFPO certification conveys.
LIKE and FOLLOW the IFPO on Facebook!
International Foundation for Protection Officers Mission Statement
Mission Statement Part I.
The International Foundation for Protection Officers provides professional learning opportunities for security practitioners, to impart the knowledge, skills, and competencies required to maximize job performance and enhance career potential.
Purpose: to make a positive difference in the quality of the participant's job performance and elevate the professional status of students who partake of our learning opportunities.
Business: to supply committed security practitioners with a quality education to help achieve their highest potential and provide recognized accreditation for successful completion of educational goals.
Values: commitment, integrity, responsibility, and standards of excellence, provide the platform that supports our journey as we pursue our mission.
Vision Statement
Commitment to Excellence: To be the recognized center of excellence and primary provider of education and training products and services to the security industry.
Mission Statement Part II.
"The International Foundation for Protection Officers is committed to the support and professional development of protection officers and supervisors. Through advocacy, promoting training standards, and providing accessible training, education and certification opportunities, we seek to enhance their professional standing as well as increase and diversify the value of the vital services they provide."