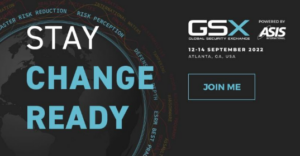 Are you an IFPO member and considering attending GSX 2022, the security event of the year? Well, this news just might make that decision a bit easier -- as an IFPO member, you can take advantage of discounts offered by ASIS!
Here is what you need to know --
Promo code for VIP discount to all IFPO members – Partner04
2 full conference registrations – MP01
*** CLICK HERE TO REGISTER FOR GSX 2022! ***
________________________________________________________________________
With security in constant flux, Global Security Exchange (GSX) is your stabilizing force. Brought to you by ASIS International, the premier association supporting the field, GSX is the industry's most trusted annual event—and the cornerstone of security resilience and advancement worldwide. To stay ready amid today's evolving risks, you need to be here, this year and every year, in the center of it all: CPE-eligible education on current and emerging threats, new technology to upgrade and expand your capabilities, and an impressive community with a pulse on your biggest challenges.
________________________________________________________________________