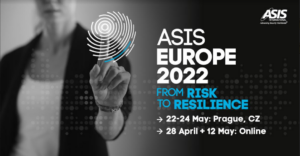 For IFPO members in Europe who are not ASIS members but are planning to attend the in-person ASIS Europe event in Prague, there is the availability of the "show pass," which allows access to the Innovation Track sessions onsite, the exhibition, coffee breaks and happy hours. In addition, ASIS is opening up the Aspiring Leaders Workshop for show pass holders.
This enables people to enjoy a fulfilling ASIS experience without the full cost of a Leadership pass.
Cost for non ASIS members is EUR 50. They can register here: https://asiseurope.org/register-2022/
For those considering attending, here is some information from the ASIS Europe website:
"After a special opening session on Ukraine, one track will be dedicated to the evolving risk landscape around issues such as geopolitical tension, societal unrest, technology and the rise of AI and new considerations on travel risk.
In parallel, we will examine how security supports business strategy, diving into what the post COP26 economy means for security teams, internal collaboration with Risk Management, Compliance and HR, how to function effectively in remote work environments, engaging the next generation of security talent, and how ESRM is being implemented.
Plus, the Innovation track will cover the latest research and developments on security tools, technology and service solutions.