Based on findings in the IFPO's ground-breaking research project, "The Competence of Frontline Security Professionals and What They Say About Their Work," several of the organization's representatives are working to develop a comprehensive set of guidelines for what is defines a security officer, both in terms of training and duties. The goal of this effort is to submit the competency model to the U.S. Department of Labor to be accepted as the national guideline for the security industry.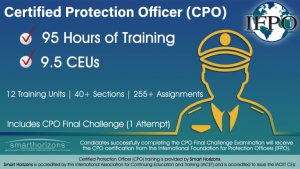 Get certified and take your security career to the next level!
The International Foundation for Protection Officers (IFPO) is dedicated to providing meaningful and cost effective security training for security guards and protection officers.
We believe that education is a necessary and essential part of professional security training and the security officer's background. IFPO serves individuals, security companies, and organizations that have their own private security staff. Our students and members benefit from the recognition and standing that the prestigious IFPO certification conveys.
LIKE and FOLLOW the IFPO on Facebook!