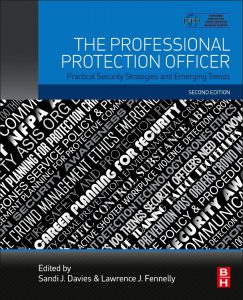 The Professional Protection Officer: Practical Strategies and Emerging Trends, edited by IFPO Executive Director Sandi Davies and IFPO Past Chairman Lawrence Fennelly, is the text that serves as the bedrock for the IFPO's flagship course, the Certified Protection Officer. Security industry veteran Ross Johnson was kind enough to write a review of the book on ASISOnline:
The duties of today's professional protection officer are complex. They can be found conducting a wide range of activities: loss prevention, fire prevention, traffic control, access control, active shooter prevention and response, and emergency management—to mention just a few.
The one single factor whose presence or absence can predict the success of a professional protection officer is training. Diverse training requires diverse resources, however, and that can be prohibitively expensive.
The Professional Protection Officer: Practical Strategies and Emerging Trends provides an up-to-date collection of the knowledge and skills required of protection officers in today's environment.
Read the rest of the review here.
Reviewer Ross Johnson, CPP, is the president of Bridgehead Security Consulting, Inc. He is the co-chair of the Electricity Information Sharing and Analysis Center (E-ISAC) Physical Security Advisory Group and is the author of Antiterrorism and Threat Response: Planning and Implementation.
WANT TO WRITE A REVIEW OF THE BOOK? DO IT HERE.
___________________________________________________________________________________________________________________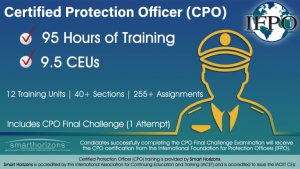 Get certified and take your security career to the next level!
The International Foundation for Protection Officers (IFPO) is dedicated to providing meaningful and cost effective security training for security guards and protection officers.
We believe that education is a necessary and essential part of professional security training and the security officer's background. IFPO serves individuals, security companies, and organizations that have their own private security staff. Our students and members benefit from the recognition and standing that the prestigious IFPO certification conveys.
LIKE and FOLLOW the IFPO on Facebook!
SUBSCRIBE to the IFPO YouTube channel!
___________________________________________________________________________________________________________________