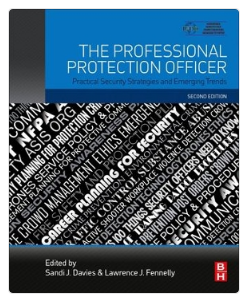 New for 2020 is The Professional Protection Officer - Practical Security Strategies and Emerging Trends, edited by International Foundation for Protection Officers Executive Director Sandi Davies and IFPO Board of Director Chairman Lawrence Fennelly.
This work is the backbone of one of the IFPO's most popular and successful certifications, the Certified Protection Officer course. 
For security officers, achieving the CPO makes one more marketable as a professional, increasing your knowledge base and skills.
Employers of security officers can see the benefits of having professionals with CPO certifications as well.
____________________________________
____________________________________
Want to write a review of the book? Click here.
Key Features:
Offers trainers and trainees all new learning aids designed to reflect the most current information and to support and reinforce professional development.
Written by a cross-disciplinary contributor team consisting of top experts in their respective fields.
Readership:
Security Management students, Physical Security Managers, Supervisors, Executives
Table of Contents:
UNIT 1: Foundations
1. Concepts and Theories of Asset Protection
2. The Evolution of Asset Protection and Security
3. Role of the Professional Protection Officer
4. The Protection Officer as a Leader
5. Career Planning for Protection Professionals
UNIT 2: Communications
6. Effective Communications
7. Security Awareness
8. Central Alarm Stations and Dispatch Operations View more >
About the editors: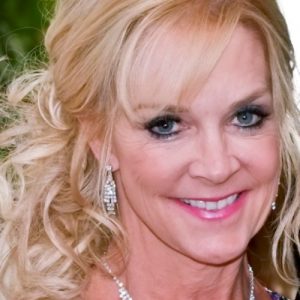 Sandi Davies
Sandi J Davies has served as the Executive Director of the International Foundation for Protection Officers (IFPO) for more than 25 years. She is the former Chairperson of the Security Services Council for ASIS International, and is currently a member of the Security Services Council and the Women In Security Council of ASIS International. Sandi has edited eight editions of The Professional Protection Officer, as well as all four editions of Security Supervision: Theory and Practice of Asset Protection.
Affiliations and Expertise
Executive Director, International Foundation for Protection Officers (IFPO)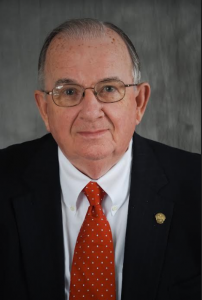 Lawrence Fennelly
Lawrence J. Fennelly is an internationally recognized authority on crime prevention, security planning and analysis, and on the study of how environmental factors (CPTED), physical hardware, alarms, lighting, site design, management practices, litigation consultants, security policies and procedures, and guard management contribute to criminal victimization.
Mr. Fennelly was previously employed with Apollo Security, Computershare, Inc., as well as a sergeant at Harvard College, employed by the Harvard University Police Department in Cambridge, Massachusetts. He was trained as a crime prevention specialist and served in this capacity for over 21 years at Harvard. He was also the department's training officer and assistant court officer. As part of his role as an officer at Harvard, Larry also was a deputy sheriff in both Suffolk and Middlesex counties (Massachusetts).
Mr. Fennelly is a frequent speaker and lecturer on CPTED, physical security, school crime, and other issues. He serves as an expert witness who works closely with attorneys in defense as well as plaintiff cases, assisting in case preparation, offering knowledgeable questions to ask the opposing side, etc. He has also done a considerable amount of consultant work throughout the United States. His experience ranges from identifying vulnerabilities to conducting security and lighting surveys, working with architects to design and implement security, and developing long range guard training programs and risk assessments of various facilities.
He is also a prolific author. His titles include such well-known security books as "Crime Prevention Through Environmental Design," "Effective Physical Security," and "Handbook of Loss Prevention and Crime Prevention."
________________________________________________________________________________________________________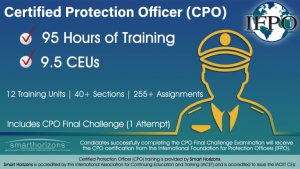 Get certified and take your security career to the next level!
The International Foundation for Protection Officers (IFPO) is dedicated to providing meaningful and cost effective security training for security guards and protection officers.
We believe that education is a necessary and essential part of professional security training and the security officer's background. IFPO serves individuals, security companies, and organizations that have their own private security staff. Our students and members benefit from the recognition and standing that the prestigious IFPO certification conveys.
LIKE and FOLLOW the IFPO on Facebook!
International Foundation for Protection Officers Mission Statement
Mission Statement Part I.
The International Foundation for Protection Officers provides professional learning opportunities for security practitioners, to impart the knowledge, skills, and competencies required to maximize job performance and enhance career potential.
Purpose: to make a positive difference in the quality of the participant's job performance and elevate the professional status of students who partake of our learning opportunities.
Business: to supply committed security practitioners with a quality education to help achieve their highest potential and provide recognized accreditation for successful completion of educational goals.
Values: commitment, integrity, responsibility, and standards of excellence, provide the platform that supports our journey as we pursue our mission.
Vision Statement
Commitment to Excellence: To be the recognized center of excellence and primary provider of education and training products and services to the security industry.
Mission Statement Part II.
"The International Foundation for Protection Officers is committed to the support and professional development of protection officers and supervisors. Through advocacy, promoting training standards, and providing accessible training, education and certification opportunities, we seek to enhance their professional standing as well as increase and diversify the value of the vital services they provide."