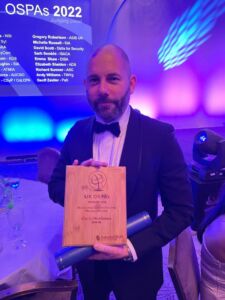 A big congrats to IFPO UK & Ireland Advisory Board Member Chris Middleton Dip ML MSyl on receiving an OSPA at a recent ceremony.
Chris, who holds the position of security and client services director for ABM UK, was appointed to the board in 2020. 
Here is what Chris wrote on his Linkedin profile after winning the award:
"Never Give Up
In January 2003, I applied to a job advertisement in a local paper looking for security officers, to work shifts on a four on four shift pattern, paying £8.25 per hour. I was 23 and about to become a dad for the first time. I was offered the role and I said to my wife, I am taking this role as a stop gap and will give it 6 months, and see how it goes. The rest is history.
In 2022, I have been acknowledged and recognised by industry peers when being announced a winner at The Outstanding Security Performance Awards (OSPAs) hosted on Thursday evening. I would like to thank the 28 judges and everyone involved in hosting this prestigious event. Congratulations also to those other finalists and fellow winners.
In my 18 year career to date I have had many ups and many downs, on a personal front. On Thursday evening, I walked amongst giants of our industry. There are too many people to individually thank and name by person, but you know who you are. Thank you for your support, mentoring and encouragement, and reminding me to never give up.
Our industry like many others has not had much cause to smile during the last two years, however I felt the need. Our industry is a great place to work with a bright future and I am looking forward to future collaborations, to keep driving positive change. I would like to dedicate my award to all those security colleagues in the frontline, past, present and future. Thank you for making a positive difference."
Chris, thank you for your inspirational words and your dedication to the industry.
____________________________________________________________________________________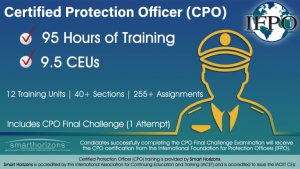 Get certified and take your security career to the next level!
The International Foundation for Protection Officers (IFPO) is dedicated to providing meaningful and cost effective security training for security guards and protection officers.
We believe that education is a necessary and essential part of professional security training and the security officer's background. IFPO serves individuals, security companies, and organizations that have their own private security staff. Our students and members benefit from the recognition and standing that the prestigious IFPO certification conveys.
LIKE and FOLLOW the IFPO on Facebook!