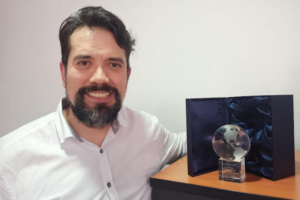 IFPO Board of Directors Vice Chairman Kevin Palacios was recently presented with the IFPO Dedicated Service Award for his tireless, forward-thinking work in many areas, including technology and global expansion.
The inscription on the award reads, "International Foundation for Protection Officers Dedicated Service Award Presented to Kevin Palacios, CSSM, CPOI, CPO in recognition of your Commitment and Efforts for bringing IFPO Certification to the 21st Century."
Sandi Davies, executive director of the IFPO, said she was thrilled to present this award to Palacios for his ongoing outstanding contributions to the IFPO.
"Over the years, Kevin has always 'stepped up to the plate' when volunteer assistance was required," Davies said. "Kevin brings many talents to the BoD as well as the overall operation of the IFPO. We appreciate and value his many contributions."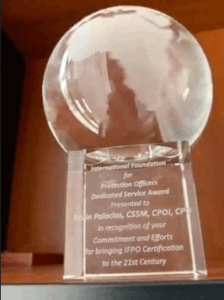 The humble individual that he is, Palacios wrote back to Davies, saying, "Sandi, THANK YOU for the 'IFPO Dedicated Service Award' that I just received. This is the coolest surprise I could've had and will keep this award in my heart always. I placed it in a place of honor on my office shelf- next to me. Please thank the girls (in the IFPO office) for this too, you all made my week."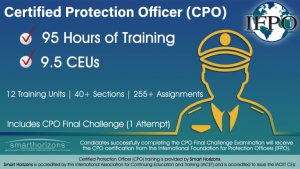 Get certified and take your security career to the next level!
The International Foundation for Protection Officers (IFPO) is dedicated to providing meaningful and cost effective security training for security guards and protection officers.
We believe that education is a necessary and essential part of professional security training and the security officer's background. IFPO serves individuals, security companies, and organizations that have their own private security staff. Our students and members benefit from the recognition and standing that the prestigious IFPO certification conveys.
LIKE and FOLLOW the IFPO on Facebook!