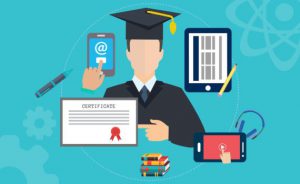 New for '22, the International Foundation for Protection Officers is now offering its members (both individual and corporate), along with all program graduates, the opportunity to store and display their certificates and badges in digital format!
Simply put, the IFPO's Digital Credentialing Program's digital certificates and badges replace the need for paper-based credentials. The credentials exist online in a secure location, with only the owner having the ability to grant access. It's a great way to enhance your online resume and impress potential employers.
The IFPO's newly-established relationship with Accredible allows members and graduates the digital space to store any credentials -- IFPO certificates and memberships, other diplomas, degrees -- in an organized and secure home.
A few things to know:
-- The platform is easy to update and enables the IFPO to add credibility to your profile each time you update your skills or qualifications.
-- This unique, new process will also allow you to review expiration dates of certifications as well as memberships.
-- All current members (and graduates?) will be provided the ability to store their digital credentials free-of-charge by the IFPO.
-- If you prefer paper-based credentials from the IFPO, they are still available, along with uniform pins, at bundled prices.
-- Digital certificates include a QR code where recruiters, employers, and clients can verify the status and validity of credentials.