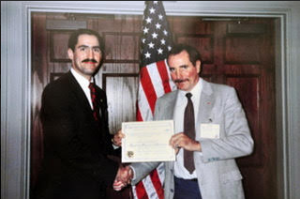 IFPO founder Ron Minion (right), presenting Tom Conley with his CPO certificate at ASIS in 1989.Earning a Certified Protection Officer certification from the International Foundation for Protection Officers is a great achievement, but it is only the beginning.
Over the years, the question has often been asked, in one form or another, "But what can the CPO (or any other IFPO certification) do for me?" The answer is one of perspective. The piece of paper alone, sitting on a desk, won't do anything; but if you take the will that you marshaled to acquire the certification -- not to mention the hard knowledge contained within the textbook -- and apply it, a great many things can happen.
Tom Conley, who earned his CPO in 1989, had already started his security company, The Conley Group, but went on to continue ascending the ladders of security and law enforcement, including a 27-year career in the U.S. Navy Police and serving as chairman of the IFPO Board of Directors.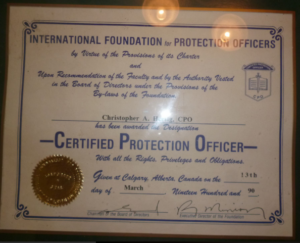 On March 13, 1990, Chris Hertig became a Certified Protection Officer. Hertig went on to serve on the IFPO Board of Directors -- he is now an emeritus member -- and is also a retired college professor. He is what he had to say about the CPO:
"Today the CPO is recognized worldwide as a professional credential for security personnel. People have attained the credential from all manner of employment settings. They have grown from it and their careers have improved.
Colleges have also gotten on board with integrating the CPO curriculum into their programs of study; particularly in Europe.
In the US, secondary schools with Protective Service Programs have taught the CPO in a classroom environment over the course of several years. Students gain the experience requirement by patrolling the campus, monitoring the surveillance systems, etc. They then take the CPO exam and earn the designation.
This gives them a valued credential.
The schools get a good capstone that is administered by an external non-profit educational foundation: The International Foundation for Protection Officers (IFPO).
Employers and society get people protecting them who have some basis of knowledge and experience.
I have since become a Certified Protection Officer Instructor (CPOI), a serious credential for those who teach those who protect."